About the swing photos: the how and why Just a few technical notes here on how and why these photos were taken



The How: the Camera
All photos are taken with a superannuated Pentax Optio S40 digital camera, which is fast becoming a four-megapixel dinosaur. The photos are minimally edited and cropped in iPhoto, and then hosted on Flickr.com.

The camera is set to "night scene" mode, and is deliberately set to overexpose by 2/3rds of a stop. The result is a "drag and flash" photo, as exposures are as long as two seconds, with a sync flash, followed by a freeze flash. If you happen to be momentarily blinded while dancing in front of the camera, we must all suffer for the sake of art...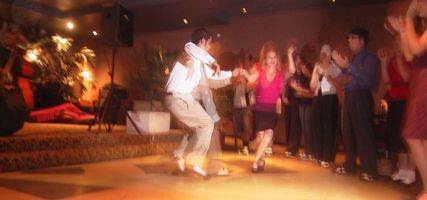 Aces Supperclub, Sacramento, CA
© Patrick M. Len, August 2001


The Why: the Swing Scene
These photos are merely taken and put up for everyone to enjoy, whether locally in San Luis Obispo, Davis, Sacramento, San Francisco, or in travails abroad in Honolulu, Los Angeles, Santa Barbara, Seattle, Denver, and wherever swing dancing may happen to be.

These photos are yours to download for your personal use. Please acknowledge this website (www.waiferx.com), and hope to see each and everyone of you out dancing sometime soon!